---
Here are a few IMPORTANT things to keep in mind before your flight:
We ask that you arrive 15-20 minutes before your Helicopter ride for check-in and a safety briefing. DO NOT BE LATE — If you are you will FORFEIT your flight time. Passengers arriving late seriously disrupt flights for the remainder of the night. We will work with you to get you in the air but you will be assessed a late fee of $25, if the helicopter has been shut down due to your absence the fee is $50. The fee will have to be paid BEFORE your tour — NO EXCEPTIONS.
Please plan accordingly to be on time – this includes traffic etc.
Passengers will be weighed upon arrival.
If the combined weight of all three passengers exceeds 600 pounds, one passenger will not be able to fly; as it would exceed the maximum weight limit mandated for safety reasons.
No refund will be issued.
If that passenger wishes to fly on another tour they will be charged full fare.
Each passenger can weigh no more than 285 lbs each.
If the seat belt will not buckle you will not be allowed to ride, no seat belt extensions.
Passengers who booked through groupon (for up to three passengers) may pick up their Magic show tickets upon request.
Please have proof of purchase on hand. As not all passengers have prepaid for tickets, we do not remind people to collect their tickets.
If you forget to ask, we unfortunately are not responsible to send, mail, or drive your tickets to you.
If you have booked your tour through another vendor and wish to see The Nathan Burton Magic show, we sell tickets at a discounted rate for our passengers.
General admission is $49.99 per person. If you are a passenger, you may buy them here at the 702 office for $20 per person.
Children 3 years old and above are welcome to take the tour.
Each must be in their own seat,No Lap riders.
There is s room for three passengers on the Helicopter. Parties of two may be joined by a third person.
If you wish for your tour to remain private, we offer a $25 upgrade to be purchased upon booking, or booked afterwards by calling the office (1-877-203-6823).
By electing to upgrade, we guarantee you will have a private flight. If your voucher is for up to three people and you make your reservation for two, we will try to fill the third seat.
If you show up with a third person after making the reservation for two, the third person will be charged full fare.
We are located at the North Las Vegas Airport (NOT McCarran).

The Address is:
2634 Airport Drive
Suite #101
North Las Vegas
Nevada 89032

The cross streets are:
Airport Dr & N Rancho Dr. Go east on airport Dr. at Ranch, and we are the first building on the right. There is a 702 Helicopter sign on front of the building, at the top. We are positioned about 15 to 20 minutes North of the Strip and all of the major hotels.
Please do not go to McCarran or Henderson Airport.

If you have any questions, feel free to call our office at:
877-203-6823 (Toll Free)
702-508-3288 (Local)
After hours for EMERGENCIES you can call (702)338-9393 or (702) 271-7611

Press zero a few times to bypass the message & get directly connected.
Our staff works hard to ensure you have a wonderful experience. If you enjoy your flight, typical gratuity runs at $20 per tour. The funds are split among our crew, and greatly appreciated.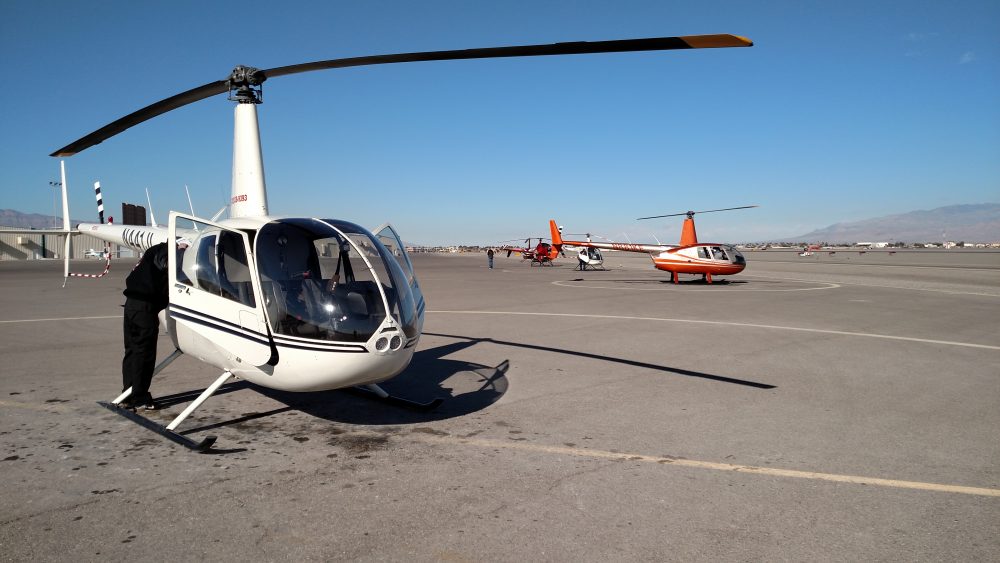 Do You offer other Tours or experiences?
YES!!
Here are other Vegas experiences that we recommend:
The Grand Canyon
A Machine Gun
Experience Exotic Car Rental
The Vegas off Road Experience
Night Club Crawls and more.
You can call and book directly through our staff to receive exclusive discounts. Our staff will be happy to book your experience and answer any questions you have. After your flight any comments or critiques are appreciated on our website.
Please Like us on
Facebook
. After your flight, any comments or critiques are appreciated on our page.
Thank you, we look forward to flying with you. The staff of 702 Helicopters & LasVegasHelicopter.tours